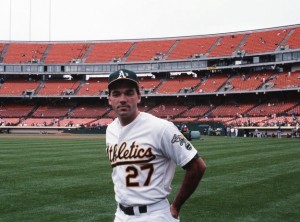 Not sure former A's GM Sandy Alderson had a clue that when he signed fledgling free agent outfielder Billy Beane on November 30, 1988, it would have made a significant impact on the organization and baseball twenty-five years later. In 1989, Beane, who donned No. 27, played in only 37 games for the A's. He had a salary of $70, 500. These days, Beane probably earns that amount in about two or three speaking engagements around the country.

What a difference twenty-five years can make. Although the A's swept their way to a World Series Championship in 1989, Beane mostly watched his final season in the big leagues pass before him. But Beane, intrigued by Alderson's front-office savvy, stuck around with the organization as an advance scout. After promoting to assistant GM in 1993, Beane took over for Alderson as GM in the fall of 1997.

In sixteen years as A's general manager, Beane has become the best at assembling a competitive club on a limited budget. Under Beane, the A's have made seven playoff appearances over the last fourteen seasons.

Alderson just wanted some outfield depth, but signing Beane in 1988 has proven to be one of the organization's most rewarding acquisitions. November 30 marks Beane's 25th anniversary with the A's.