After last week's Boston Red Sox World Series victory over the St. Louis Cardinals, the season came to an anticlimactic end. For A's fans, however, courtesy of the Detroit Tigers, the season came to a Twilight Zone-ish end on October 10.

Déjà vu.

Summer is over. Thanksgiving looms. Daylight savings has officially begun.  We've doused our Justin Verlander effigies and cried our last tear. Now, as we've been conditioned to painfully recognize, the healing begins. Or does it? This offseason appears to be a crazy time for Oakland on many different levels. Of course, there is the business side of baseball and assembling a team ready to compete in 2014. As expected, the A's exercised the option of Coco Crisp and most of the team seems locked down.

The big questions are fairly mundane: Bartolo Colon is the only big-name player not locked up for next season. Besides Game 1 of the ALDS, he pitched masterfully this season and was clearly worth the gamble and every penny. But Colon turns 41 on May 24. You can't outrun time. But maybe for him it's more of a trudge away from time. La Fuente de la Juventud can only last so long, right?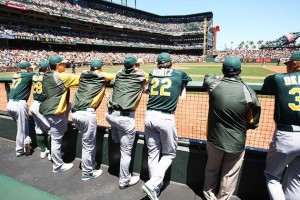 On another note away from the field, reports have surfaced that MLB has introduced the idea of the A's sharing AT&T Park with the San Francisco Giants for the next two seasons. What? My brain was rattled when I read this report because the idea is so out of left field. For some cynical fans like myself, it looks like the beginning stages of the A's moving out of the Bay Area altogether. Don't get me wrong. I'm aware that teams have shared parks before and obviously still do in other major sports. But in baseball, the only time it typically happens is during stadium construction and with consent from the host team.

This move would not be welcomed by the Giants and based on a quick glance of fan boards, their fans either. By the way, note to Giants fans: Calm down. A's fans, contrary to popular belief, will not burn your stadium down or ruin the "ambiance" of San Francisco. Easy does it. If this move does happen, as much as I respect and enjoy AT&T Park, everyone loses. A's fans would lose the familiarity of traveling to the Coliseum and be forced to be visitors in a guesthouse. They'd also have to deal with the uncertain future of their team on a more urgent level.

Giants fans, on the other hand, would lose beauty sleep wondering if A's fans will destroy the pristine beauty of their baseball cathedral. Even though Giants ownership may have a long-term goal of owning the entire Bay Area market, their fans would still hate sharing a stadium. The residents in the radius of AT&T Park are clearly upset by this, especially since many of them seem to be non-baseball fans. They can only imagine the congestion, noise pollution and otherwise inconvenience of baseball almost every day. As gleaned from reports, the teams share nine home games next season as well. Yay, doubleheaders!

Sadly, Oakland, and on a lesser note, San Jose, continue to take small hits in their respective campaigns to keep or land the A's. Let's hope this report is all sound and no furry. After all, Monday is a slow day for news and there's no other way to start your morning off than with controversy.

AT&T Park is a beautiful place, but I don't want to see the A's playing home games there. It would mean that MLB, John Fisher and Lew Wolff would be taking their first steps out of Oakland, and with such a radical move, possibly out of the Bay Area.