Billy Beane has been working hard this offseason at overhauling the A's roster. He's replaced key figures with some interesting, subtle additions. At first glance, the list of the departed is discouraging and I've even heard some fans grumble about how the A's again can't afford to keep some of their big stars or fan favorites.

The departed include:

Bartolo Colon (signed with Mets)

Grant Balfour (signed with Orioles)

Jerry Blevins (traded to Nationals)

Michael Choice (traded to Rangers)

Seth Smith (traded to Padres)

Jemile Weeks (traded to Orioles)

Brett Anderson (traded to Rockies)

Chris Young  (signed with Mets)

* A's also declined 2014 options for Kurt Suzuki and Chris Young

In a matter of weeks, the A's lost Balfour, their closer; Blevins, a key left-handed reliever; Colon, their most consistent starting pitcher during the regular season; and Choice, a touted outfield prospect.

Let's see what Beane did to replace some of these key players:


To replace Colon, Beane gambled on 29-year-old, left-handed starter, Scott Kazmir, who after being released by the Angels in 2011; worked his way back to the big leagues last season with the Indians. In 29 starts last season, Kazmir, a former All-Star, posted a record of 10-9 with a 4.04 ERA. The former 2002 first round draft pick adds a veteran presence to the rotation and made Brett Anderson expendable. I'm curious to see how he performs at the pitcher-friendly Oakland Coliseum.

With the inevitable departure of Balfour, who signed with the Orioles today, the A's acquired closer Jim Johnson from the Orioles in exchange for second baseman Jemile Weeks, who was a disappointment and never became the player the A's had projected. I'll miss Balfour's energy and one of my favorite memories of him was his badass standoff against Victor Martinez in Game 3 of the ALDS in Detroit. Johnson looks like an adequate replacement, but sometimes it's hard to tell with closers. He had a rough ALDS in 2012 and his stuff doesn't appear overpowering. But he earned 50 saves for the Orioles last season and the A's definitely need a dependable arm to close games.

The A's also signed utility man Nick Punto, 36, as a free agent to provide some infield depth.  Coming to the A's via trades were outfielder Craig Gentry; lefty Drew Pomeranz, once regarded as a top-tier pitching prospect; and right-handed reliever Luke Gregerson, who had an amazing bullpen presence for the Padres last season.
His presence bolsters an already strong A's bullpen.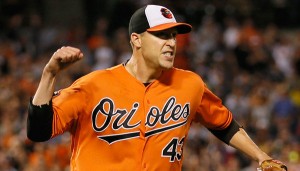 Beane still has some holes to fill, including catcher and some infield pieces. His aggressiveness in the trade market proves that he wants and expects to compete in 2014. And I don't think he's done manipulating the roster. Pitchers and catchers report to spring training in 54 days and with more possible moves on the way, I'm excited to see what the A's are all about next season.