Spring Training is here. As baseball season begins, I'm accepting the challenge Dale Tafoya laid down in a recent episode of Athletics Talk Now and taking a look beyond my own history of following the A's, to unchartered territory for me. So I stretched myself and started researching the year of my birth: 1979.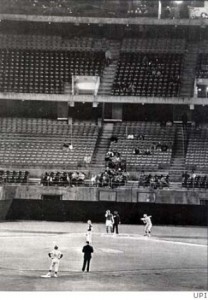 In terms of A's history, 1979 was a strange year. It followed the Golden Age of A's baseball in the early and mid-70s, but preceded the brief renaissance of manager Billy Martin from 1980-82. Under manager Jim Marshall, the A's drew 306, 763 fans that season, which ranked last in all of baseball. In fact, on April 17 of that season, 653 fans showed up at the Coliseum to watch the A's beat the Mariners 6-5. Some say that was a generous estimate.

The decaying state of the franchise angered the city of Oakland and Alameda County. They soon filed a joint lawsuit against A's controversial owner Charles O. Finley & Co., citing concerns that he wasn't dishing out the money to field a competitive team nor promoting his product. Fan morale was also sinking fast. The team had been in the market since 1968, and fans were accustomed to winning, but now they refused to support an inferior product and a sluggish effort by a stagnant owner.  If this sounds like 2008 or 2009, you wouldn't be mistaken, but 1979 was easily the worst year in Oakland A's history.

Once free agency began, the A's lost a great deal of players because Finley refused to pay them what other teams would. By 1979, the core of the three-time World Series champions was gutted, leaving a youthful roster of solid players like Tony Armas, Mike Heath, Mike Davis, Dwayne Murphy and pitchers Mike Norris, Steve McCatty, and Matt Keough. Jim Marshall managed the A's for only one season, but he also had three losing seasons when he managed the Cubs from 1974-76. In 1980, Billy Martin replaced him and basically used some of the same roster to make the playoffs in 1981. So the team had talent. One can contend that Marshall lacked the passion and intensity of Martin, but few could match Martin's fiery personality.

Charlie Finley, clearly frustrated with the birth of free agency, and after a roller coaster experience as owner, was looking to sell the team. There were rumors, in fact, that the A's were on their way to Denver in 1978 via oilman Marvin Davis, but the city stepped in and reminded them that they had nine more seasons on their lease.

The A's finished the season 34 games behind the first-place Angels with a record of 54-108. One can only imagine how the combination of subpar leadership and an owner with one foot out the door could contribute to a team's on-field performance. After all, playing for a piece of toast in Oakland in 1979 was a lot different than playing in front of screaming and clamoring fans at Fenway Park. But maybe it didn't.

On a bright note, though, that season also marked the debut of one of the most electrifying players in baseball history, Rickey Henderson, who collected two hits and a stolen base in his debut game on June 24. Henderson went on to play four stints for the green and gold.

So while the 1979 A's may have been the worst team in franchise history, I'm glad I bumped into this season. When I catch myself complaining about another fan-favorite signing elsewhere or a dismal season, that season reminds me that things could be worse. Way worse. Martin became the A's manager the following season and Finley sold the A's to Walter A. Haas in 1981. By the way, the A's won the World Series a decade later.