As an 11-year-old boy, I remember sitting in front of my grandmother's television watching the celebration: A's rookie pitcher Mike Warren had just hurled an unlikely no-hitter against the American League West champion Chicago White Sox on September 29, 1983. It sealed an A's 3-0 victory over the White Sox, who eventually won the Division by 20 games under manager Tony La Russa.

After Carlton Fisk hit a lazy fly ball to left for the final out in the ninth, the 22-year-old Warren embraced third baseman Wayne Gross and catcher Mike Heath on the mound to celebrate the fourth no-hitter in Oakland A's history.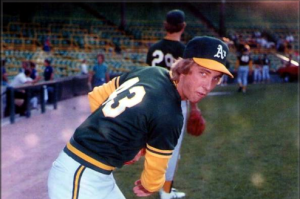 In front of a crowd of 9,058 on a chilly Thursday night at the Oakland Coliseum, the 6-foot-1, 175-pound right-hander walked three and struck out five over nine innings. He faced only 29 batters and did not allow a baserunner to reach second base. At the time, he became only the ninth rookie since 1900 to hold an opponent hitless. The game, which lasted only two hours and twenty minutes, was also the third no-hitter in baseball that season.

Warren was in good company. Since arriving to Oakland in 1968, the A's have had some premier pitchers toss no-hitters: Catfish Hunter, Vida Blue and Dave Stewart. Although recently retired Dallas Braden never reached stardom, his perfect game in 2010 game generated national headlines because it happened on Mother's Day.

But you have to be a baseball historian or a longtime A's fan to remember what Warren did in 1983. You have to dig deep, deep into A's history. Some scribes regarded that night as a meaningless, late-season game that nobody took too serious. But history took it serious. Every so often in baseball, one of these surprising accomplishments show up from an inconceivable source. Warren, who was recalled from Triple-A Tacoma in August, entered the game with a 4.76 ERA.

Warren was drafted by the Tigers in the 12th round in 1979 out of Fullerton High School in Garden Grove, Calif., and made the major league minimum of $35,000 in 1983. His euphoria didn't last long, however. He struggled. Having  pitched only two more seasons in the big leagues, Warren ended his brief career in 1985 with a record of 9-13 accompanied by a 5.06 ERA. He never pitched another complete game and won only four more games.

But even though Warren may be regarded as a forgotten, one-night wonder, his name will forever be linked to one of Oakland A's baseball's most rare feats.