A's fans are considered customers of a product: Oakland A's baseball. That's why it disheartened me last season when some Bay Area media took photos of skimpy crowds at the Oakland Coliseum and tweeted them to their followers.

Do thin crowds reflect customers or a product?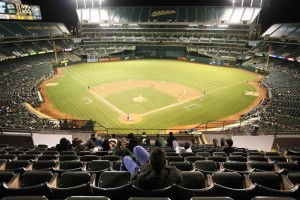 If I were to walk into an empty Walmart, should I contend the Walmart customer base is decaying or that Walmart is failing to draw customers? Companies are supposed to attract customers, right?

There could have been many reasons why those media members decided to expose the tiny crowds:

1)   Demonstrate the A's can no longer survive in Oakland

2)   Inspire A's fans to come support their team

3)   Criticize the A's fan base for not filling the Coliseum

4)   Expose the 48-year-old, antiquated Coliseum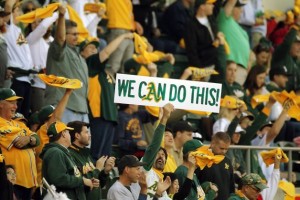 The problem is you can't force a customer to invest in a product; the company needs to sell the customer. That's why I've always had a soft spot for A's fans because they've been sometimes mischaracterized as a fan base. Even ridiculed. But just when you think the fan base is withering, they suddenly explode into the postseason and force the A's to remove the third deck tarps.
A's nation is still as powerful and radical as it has ever been, but sometimes it needs to be inspired by a hint of greatness.

That was displayed when almost 20,000 A's fans attended FanFest last month. Through social media, for example, A's fans last week shouldered second baseman Eric Sogard into the finals of the #FaceofMLB competition. The A's marketing department also deserves a great deal of credit for generating a buzz to inspire the fan base.

A's fans love challenges, don't they?