Some of my favorite moments in A's history come from the teams of the late 1980s. That's why I'm excited the A's are hosting a 1989 World Series Reunion on Saturday, July 19. That season, of course, was the last time the franchise claimed a World Series title. It should be an intriguing 25-year anniversary and it's great to see the A's celebrate their history. The organization hosted one of these in 2009, too.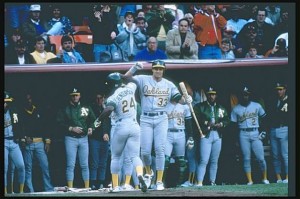 How chilling would a reunion of the Bash Brothers be? Probably won't happen, though.

There were so many great players and personalities on that squad and I wonder which ones will be on hand.  Jose Canseco confirmed to me that he's coming. Dennis Eckersley is planning on being there. Terry Steinbach, bench coach for the Twins, confirmed to me that he can't, because of his coaching responsibilities. Of course, A's coaches Mike Gallego and Curt Young will be there. A's GM Billy Beane, who played briefly on that club, should be on hand as well.

One interesting factor that may sway participation is that some former players on that team now serve as coaches around professional baseball. Rick Honeycutt and Mark McGwire, for example, are on the Dodgers coaching staff. Walt Weiss is manager of the Colorado Rockies. Greg Cadaret is pitching coach for the Traverse City Beachbums and Jamie Quirk is manager of the Lake Elsinore Storm. Dave Henderson, meanwhile, serves as a special assistant to the Mariners. Henderson is still connected to the A's, so I expect to see him there. Tony La Russa, who resides in the East Bay, should be there, too. Some former players have told me they haven't received an invite yet. Here's the entire roster.

Regardless, July 19 should be a memorable Saturday evening at the Coliseum.