Newly acquired reliever Jim Johnson, after a few blown saves, has been temporarily removed from his closer duties. The igniter of the offense, Coco Crisp, has only 24 at-bats through the first fourteen games of the season. Josh Reddick, who clubbed 32 homers in 2012, is homerless and batting .098. Backup first baseman Daric Barton is batting .077 (2-for-26). Three starting pitchers who helped shoulder them to an American League West title last season, Bartolo Colon, A.J. Griffin and Jarrod Parker, are no longer on the current staff.

By the way, the A's are 10-4 and boast the best record in baseball. Incredible.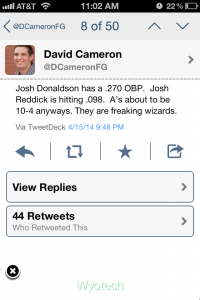 Although the A's don't feature any larger-than-life figures on their roster, they do one thing that's important in professional sports: They win.

How the A's front office manages to assemble a winning team each season is remarkable. A's GM Billy Beane has a tremendous ability to replace a departed player with someone comparable or even better. Granted, we're only fourteen games into the season, but you can already spot the depth on the club. The team has encountered early injuries and some disappointing performances from key players, but there's always another hungry player ready to contribute. That's because the A's front office has a formula when they structure a team.

The A's aren't built on superstars, but depth.