The A's bullpen is comprised of a bunch of relievers with strong track records. For the most part, track records don't lie. That's why many experts before the season projected the A's bullpen to be one of baseball's best. And they may still perform up to those expectations.  But it's hard to believe the assortment of A's relievers in the 'pen are 5-for-11 in save opportunities through the first 21 games, especially since the club is 13-8. Some fans have been disappointed by their performance.

Don't panic. The bullpen can still become one of the stingiest in baseball. It's April 24.

Behind the blown saves, the bullpen has pitched much better than that stat indicates. A's relievers, in fact, have a combined 2.48 ERA, which is the second lowest in the American League. Opponents are batting .199 off the 'pen, which is the second lowest in the majors, according to A's game notes.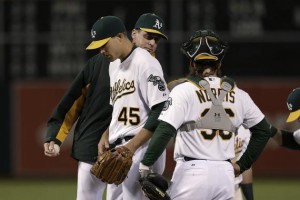 Jim Johnson's disappointing start of the season has obviously affected the equilibrium of the bullpen. He was supposed to replace Grant Balfour, who earned 38 saves for the A's last season. He may still fill that void, and I believe he can. Now we're seeing setup relievers expected to close games. And I trust Bob Melvin's judgment to believe they can.

Most of the A's relievers carry a strong makeup to be effective, middle inning relievers. Not everyone, you see, has the composition to be a high profile closer, even though that gig garners big money.

A setup reliever may be able to close games here and there, but a bona fide closer can do it effectively, fearlessly and long term. When I remember solid setup men in A's history, Gene Nelson, Rick Honeycutt and Jeff Tam come to mind (there are other good ones, I'm sure). But I doubt they could do the works of closers like Dennis Eckersley or Jason Isringhausen. That's not to say that A's relievers aren't capable of being closers. Ryan Cook was a great story in 2012.

What I think the A's brass would love to see is––whether it's Johnson, Ryan Cook, Sean Doolittle, Luke Gregerson Fernando Abad or Dan Otero­­––for someone to seize the closer role and not let go.  Of course, this can only happen when one of them has proven they can consistently convert a string of saves for a long period.

Once that anchor is identified, the A's bullpen will be at its best.