The remarkable story of Jesse Chavez reminds me of many former A's players who resurrected their career in Oakland. Let's face it: The A's don't attract big-time superstars and are sometimes forced to watch their own homegrown, budding stars sign for more money elsewhere. And once a fledgling player reignites his career in Oakland, how many times have we seen them follow the money elsewhere? Bartolo Colon? Frank Thomas?

Good for them. It's a part of the business.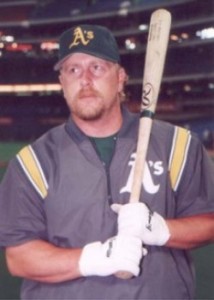 But these circumstances have also provided opportunities in Oakland for the castaways of professional baseball to cling to their dreams of making their mark and re-establish themselves in the majors.

So while it may be discouraging to always embrace the underdog role in terms of payroll, A's fans have witnessed some wonderful stories of personal triumph through the years that money can't buy.  Chavez, whom many considered a journeyman, mop-up reliever last season, is just one example.

Before the 1996 season, Matt Stairs, a 28-year-old, pinch-hit specialist who never played more than 39 games in the majors, signed with the A's.  Stairs seized the opportunity and averaged 24 homers over the next five years with the club. In 1999, he clubbed 38 homers and drove in 102 runs. Opportunity.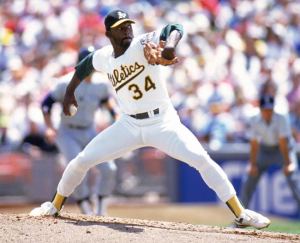 A door of opportunity opened for Dave Stewart in May 1986.   Stewart was a 29-year-old failed starting pitcher who was released by the Phillies midseason. Stewart limped into his hometown of Oakland and signed for $60,000. By 1990, Stewart, World Series MVP in 1989, was one of the best starting pitchers in baseball and had four consecutive seasons with at least 20 wins under his belt.  Opportunity.

Former AL MVP Frank Thomas had something to prove after the 2005 season. He left Chicago, took his bad ankle and signed with the A's in 2006 for a base salary of $500,000 with performance incentives.  That season, Thomas shouldered the A's to the ALCS, boasting an on-base percentage of .381 and clubbing 39 home runs. He finished fourth in AL MVP voting. Opportunity.

A's reliever Sean Doolittle was drafted by the organization as a first baseman out of the University of Virginia in 2007.  But knee surgeries and a wrist injury sidelined his promising career as an offensive player.  Instead of abandoning his career in professional baseball, he returned to another position he played in college: Pitcher. By 2012, Doolittle became one of the weapons in the A's bullpen. Now he's one of the most feared left-handed relievers in the AL. Opportunity.

The list goes on, and I'm sure you remember some, too.

Ever time you hear of a player not living up to the expectations of a monstrous contract, you'll hear about another amazing story coming out of Oakland.