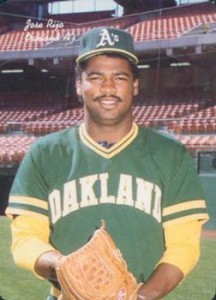 Before Jose Rijo haunted the A's during the 1990 World Series, he pitched for them parts of three seasons from 1985-87. Rijo was a part of two important trades in A's history. First, he was a part of a package of players that included Eric Plunk, Stan Javier, Jay Howell and Tim Birtsas acquired by the A's from the Yankees in exchange for Rickey Henderson after the 1984 season.

Three years later, Rijo and Birtsas were traded to the Cincinnati Reds for 36-year-old slugger Dave Parker, who provided great leadership and was an offensive force in the A's lineup from 1988-89.

When the 19-year-old, Dominican-born Rijo first came to the A's, he had electric stuff. It was unrefined, however. He was a flamethrower who oftentimes couldn't find the plate. He was wild and raw. In fact, in 1986, he walked 108 and struck out 176 in 193 2/3 innings.

Rijo, though, also authored one of the most impressive pitching feats I've ever witnessed in 1986. He struck out 16 Mariners over eight innings at the Kingdome on April 19, which to this day is an A's record. His next start, on April 24 at the Oakland Coliseum, he struck out 14 more Mariners over 8 1/3 innings. That night, you could hear a loud pop when a Rijo fastball met catcher Bill Bathe's glove. So in back-to-back starts, Rijo struck out a total of 30 batters over 16 1/3 innings. Incredible. During those two games, Mariners' hotshot prospect Danny Tartabull was 0-for-7 with seven strikeouts.

That run, of course, does not prove strikeouts are the key to great pitching, but it demonstrates the flashes of dominance and talent Rijo possessed in his early 20s with the A's. Just like a monstrous homer landing in the third deck equals the same as the one barely clearing the fence. The mammoth one is entertaining and fun to watch.

In his three seasons with the A's, Rijo was 17-22 with a 4.74 ERA. Unfortunately for A's fans, Rijo went on to refine his stuff when he was traded to Cincinnati, where he pitched ten seasons and was the 1990 World Series MVP.
Before that, however, Rijo had an impressive, record-breaking, two-game pitching performance in Oakland.