The A's are a winning club. They have been since 2012. Although they experienced a playoff drought from 2007-11, in 2006, they were so good that they barged into the American League Championship Series.

During that time, despite being recognized for their stingy, young pitching, the A's have had their share of offensive forces: Frank Thomas, Eric Chavez, Milton Bradley, Nick Swisher, and now more recently, Josh Donaldson, Yoenis Cespedes, Brandon Moss, Coco Crisp and Derek Norris among others.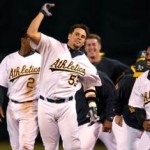 Yet the A's haven't had a position All-Star since Ramon Hernandez in 2003. Incredible. Especially since–– unlike other professional sports––MLB requires an All-Star representative from each club. Since 2003, eleven different A's pitchers have been selected to the squad: Tim Hudson, Mark Mulder, Justin Duchscherer, Barry Zito, Dan Haren, Andrew Bailey, Trevor Cahill, Gio Gonzalez, Ryan Cook, Grant Balfour and Bartolo Colon. Bailey and Duchscherer were selected twice. Fourteen years ago, in 2000, former A's first baseman Jason Giambi became the last A's position All-Star elected by fans to start the game. From 1989-91, the A's had produced at least five all-stars a season.

Eleven years is a pretty significant drought. In fact, the last time the A's had a bat in the All-Star Game, the Cleveland Cavaliers selected LeBron James as the first overall pick in the NBA Draft; Ruben Studdard was crowned winner of American Idol; the U.S. attacked Iraq; and the Tampa Bay Buccaneers hammered the Raiders 48-21 in Super Bowl XXXVII.

The drought, however, has more to do with A's stellar pitching than the lack of good hitters. A's pitching has been so good, selecting a pitcher over a position player has been a safe, easy pick for managers. The pitching staff has simply overshadowed the offense over the years. Besides Thomas and Donaldson, pitching has been the forte of the organization.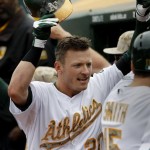 But players like Donaldson and Cespedes may end the trend soon. Donaldson is the A's best hitter I've seen since Jason Giambi. He was near the top of almost every offensive category last season, and should've been an All-Star. Cespedes, on the other hand, has the potential to be one of the game's elite hitters. He's maturing as a hitter and can only improve, especially if he keeps driving the ball to the opposite field.

The A's arms are at it again, though. Through the first 41 games, A's pitching continues to shine: Sonny Gray (4-1, 2.17), Scott Kazmir (5-1, 2.28) and Jesse Chavez (3-1, 2.44) have anchored the A's league-leading pitching staff. The more they dominate this season, the less chance an A's position player is tapped for the Midsummer Classic.

Donaldson, Cespedes–and maybe even Norris–may have some input on that decision, however.

Good problem to have.