The feeling you get when part of your childhood dies is always gut wrenching. It happened to me this morning when I read about the passing of former A's pitcher Bob Welch, a victim of a heart attack at the young age of 57.

In my time as a baseball fan, I've seen plenty of players pass on. From the shocking accidents of Cory Lidle in a bizarre plane crash, Tim Crews and Steve Olin years ago in a Spring Training boating accident; to battles with disease like Gary Carter and Kirby Puckett; to battles with personal demons: Rod Beck and Ken Caminiti. It happens, it's a part of life. But none of these guys were my guys. I definitely grieved them as a huge baseball fan, but they weren't on the A's.

That difference struck me today. Lidle was briefly a part of the A's, but he wasn't on my favorite childhood teams. We've lost Oakland players from the '70s, like A's legend Catfish Hunter. We've lost former A's manager Billy Martin, too, but that was also before my team. Bob Welch was one of my guys.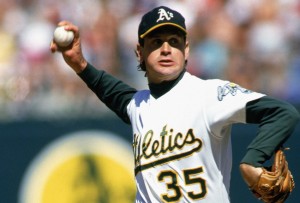 Welch wasn't my favorite A's pitcher. He didn't have the glare of Dave Stewart or the swaggering mullet of Dennis Eckersley. Winning a Cy Young Award in 1990, mostly because of his obscene 27 wins, was not particularly heralded. He was consistently good, an integral part of the team, but he wasn't a Bash Brother, he wasn't Rickey, he wasn't even Carney Lansford. When the A's acquired him before the 1988 season, it wasn't a sign that they would instantly make three straight World Series appearances. When I was a kid, in fact, Welch never seemed fiery. He seemed like a professional, diligently doing his job. His stats are good, but not overpowering or hall of fame worthy. If you look at his career, it's somewhere in the next echelon.

In the season when we celebrate the 25th anniversary of the last championship in Oakland, Welch's death makes that celebration bittersweet. It's part of life, I know, part of the cycle of things. But when it happens to one of your guys, from your team, it just makes the sting burn a little more.