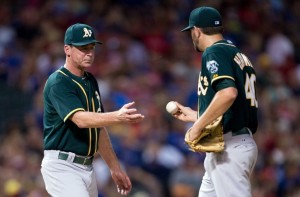 You know you felt it, A's fans. That nagging suspicion that the 4th of July trade that sent A's hotshot prospect Addison Russell to the Chicago Cubs for Jeff Samardzija and fellow starter, Jason Hammel, was too good to be true. The numbers were there to assuage our fears. Samardzija had a 2.83 ERA despite posting a record of 2-7. Hammel, on the other hand, boasted an 8-5 record with a 2.98 ERA for the putrid Cubs.

Samardzija then took the mound the following Sunday, and looked every bit the ace we thought he could be. He's a workhouse with swagger. Since then, he's pitched as advertised, even showing off his stellar arsenal of pitches in a losing duel to Felix Hernandez on July 11. Hammel, meanwhile, is quickly becoming the frontrunner for the first annual Jim Johnson Award for Inauspicious.

One bad start was not a big deal. Two bad starts––hmmmm…let's wait and see. Three bad starts? He needs to show some signs of life during his next one. Well, his next one has passed and it was ugly. Hammel allowed eight runs to the Houston Astros in 4-plus innings. He now sports a 9.53 ERA, giving up 18 earned runs in only 17 innings over four starts (averaging 4.25 innings per appearance). That is a horrendous stretch of pitching, especially with a neon light focused on it because he's a new addition with high expectations.

What should the A's brass do? Send him to the bullpen or Triple-A Sacramento? DFA him? I find that hard to believe, especially now that the A's have sacrificed $10 million on the Jim Johnson debacle. In fact, I think at the very least they will use every resource to work with him and work out whatever issues he's having. Don't underestimate the magic of A's pitching coach Curt Young. Despite the acquisition of Jon Lester that had us buzzing over coffee at work Thursday morning, Hammel will get another opportunity to right the ship against Tampa Bay on Tuesday. A's fans can only hope he turns it around.

Fans typically freak out toward the end of the season. If these struggles happened in May with a pitcher that was already established with a team, it wouldn't be as concerning. The sample size, however, is starting to get larger and larger.

A's GM Billy Beane is confident Hammel's good track record will eventually show up. Let's wait and see.