Gil Heredia. Mark Mulder. Barry Zito. Jarrod Parker. Sonny Gray. What do these names have in common? They're the A's pitchers who started winner-take-all Game 5s in the ALDS under the Billy Beane era. The A's lost each game and are 1-12 in potential clinchers since 2000. Many players have come and gone since then, but Beane has had to endure the heartbreak. Beane's priority, of course, is staving off the Angels and winning another division title. He recently told reporters on a conference call that he'd be arrogant to claim that he acquired Jeff Samardzija for the postseason when he hasn't yet clinched the West.​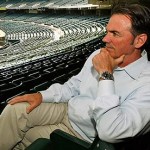 But even for the one who introduced the theory that the playoffs are a crapshoot, you have to believe that the A's historic failure in postseason clinchers under his watch is haunting him. As competitive as Beane is, the failure is probably eating him alive.  By now, he's used to seeing his players spray champagne all over the clubhouse after clinching a postseason berth. But only in 2006 did he watch his players give each other champagne showers for finally advancing to the ALCS. That's one time in eight opportunities of postseason baseball.The A's have really witnessed some bizarre setbacks during those playoff failures: The Jeter flip and Jeremy Giambi non-slide in 2001, Eric Byrnes' failure to touch home plate in Boston in 2003; and Crisp's error in centerfield during Game 2 of the ALDS in Detroit in 2012. A break or two during that time, and the A's could very well have won another championship, especially that talent-laden 2001 squad. It wasn't meant to be, I guess.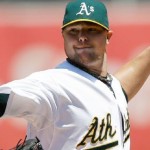 The A's have the best record in baseball and Beane sniffs yet another shot at a ring.

By shockingly and boldly acquiring starting pitchers Jon Lester and Jeff Samardzija, he's set up his starting rotation to be the most dangerous one in the postseason. In those risky acquisitions, we can clearly hear the message that Beane is disgusted and tired of postseason Game 5 failures. He doesn't have to admit it. His actions have shown it. Behind those trades, we can sense years and years of built-up, postseason hurt, anger and frustration. By giving up hotshot prospect Addison Russell and fan-favorite Yoenis Cespedes, he took a huge risk.

How will the fanbase react if the A's don't make the playoffs this season? Whoa. You can bet many fans will aim their frustration at Beane.

But as you look again at the names I opened with in this piece, the A's have never had the caliber of pitcher like a World Series-tested Jon Lester toe the rubber for them in a win-or-go-home playoff game.  He's proven. He's been there. He's successful at it. Dave Stewart was that pitcher for the A's in the late 80s. Should the A's make the postseason, they will be able to showcase Lester, who brings a mystique of playoff success.  The A's have lacked that mystique in recent playoff appearances.

Stay tuned for the most intriguing ending to a season of the Beane era. He sniffs a championship more than ever and he's set up his team to win it all. Maybe the playoffs are more than just a crapshoot after all.