The A's are honoring newly inducted Hall of Fame manager Tony La Russa tonight with his own bobblehead for the first 20,000 fans at the O.co Coliseum. He's also throwing out the ceremonial first pitch to Twins bench coach Terry Steinbach, who was his first everyday catcher when he came to Oakland during the 1986 season.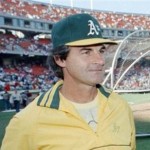 In his ten seasons managing the A's, La Russa's record was 798-673 (.542), which included three pennants and one World Series title. From 1988-90, the A's won a combined 306 games and made three-straight World Series appearances. When La Russa began managing the A's in July 1986, he planted his family in the East Bay, and even when he managed in St. Louis for sixteen seasons, his family headquarters remained in the East Bay. His daughters were basically raised in the Bay Area.

It was in Oakland where La Russa revolutionized the way relievers were used in a game. If he had the lead, he knew how to end the game in the seventh.

Gene Nelson. Rick Honeycutt. Dennis Eckersley. Game over.

Away from the diamond, he had to manage the larger-than-life egos and personalities of Reggie Jackson, Dave Kingman, Dave Parker, Rickey Henderson, Jose Canseco, and dozens of others.  He was able to channel their talent and swagger and become the powerhouse of baseball in the late 80s and early 90s.

The A's organization needs to take another step in honoring La Russa by retiring his jersey number. No. 10 should accompany other A's Hall of Famers, Rollie Fingers, Rickey Henderson, Reggie Jackson, Dennis Eckersley and Catfish Hunter, on the upper deck tarps. St. Louis retired his number two years ago.

La Russa will go down as one of the best managers in the history of baseball and A's fans are lucky to have been a part of his legacy for a decade.

Thank you, Tony.